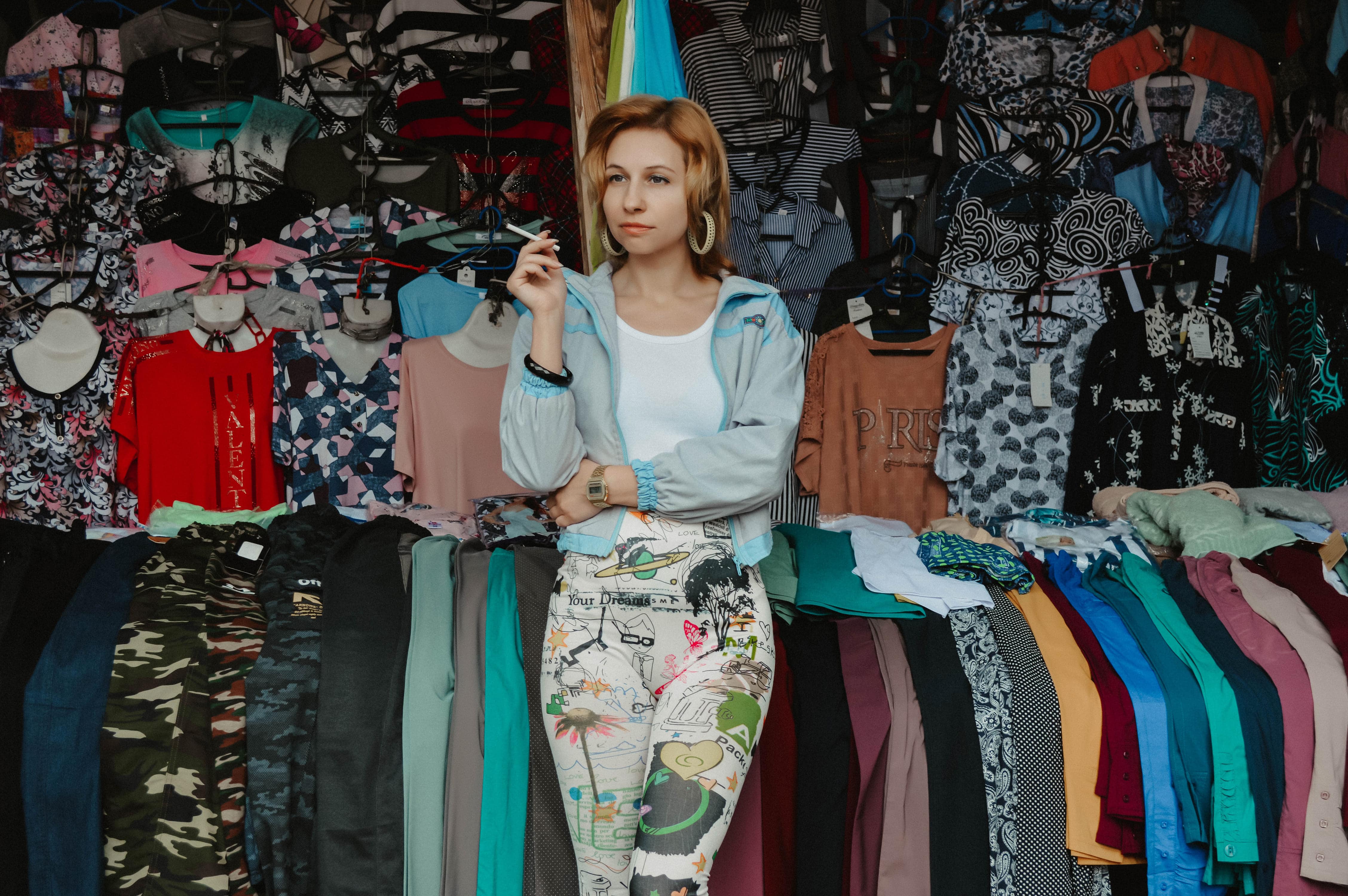 90's women fashion trends that are making a comeback

Posted on 14 March, 2023 by Rohan Sangwan

The 90s was a critical era for the women's clothing and accessory industry. It was an era of experimentation and unprecedented glamour. Slip dresses, oversized blazers, chokers, scrunchies, and baggy jeans were staples in every woman's wardrobe back then. And if you pay attention today, you will notice these iconic 90s fashion trends are making a comeback in 2023!

The fashion world is cyclical in nature, and currently, the 90s women's fashion trends are having their moment! Just look at your Instagram or head over to TikTok, and you will see women reincarnating some of the hottest looks from the 90s.

So, are you ready to take a trip down memory lane? In this blog post, we will explore some of the most popular 90s fashion trends that are coming back in full swing this year. Read on!

The top 8 hottest 90s women's fashion trends that are coming back in 2023
1. Baggy mom jeans

Mom jeans used to be supremely popular in the 90s and early 2000s fashion world. But later on, they were replaced by tight and skinny jeans.

However, we have good news for women who love wearing relaxed and comfy jeans and pants. The ultra-stylish and comfortable baggy mom jeans are making a comeback this year.

These high-waisted and loose-fitted jeans look good on all body types. You can easily pair them with a crop top or a plain t-shirt and look like a showstopper!

2. Slip dresses
A slip dress used to be one of the most glamorous outfits of the 90s. Worn by the likes of Cindy Crawford, Winona Ryder, and Kate Moss, elegant slip dresses used to make heads turn. Top designers like Versace and Calvin Klein made these dresses a must-have.

Decades later, slip dresses are back in trend today!

A stylish slip dress is one of the most versatile women's clothing options. You can layer it with a leather jacket, a hooded sweatshirt, or even a trench coat.

Not only this but pair it with a pair of Strappy heels to get a more glamorous appeal. On the other hand, if you want to go for a casual look, wear a slip dress with your favourite pair of sneakers, and you will be good to go!

3. Scrunchies
Stylish and vibrant scrunchies were a must-have accessory for every 90s woman. From high school girls to working professionals, most females had a colourful scrunchy in their hair and a few extra ones lying in their bags.

Today, scrunchies have fully re-entered the women's fashion world. In fact, they have managed to become more popular than before.

These playful hair accessories are perfect to add a pop of colour to an otherwise dull outfit, spruce up a simple hairstyle, and whatnot! Whether you have styled your hair in a messy bun, a ponytail, or a fancy braid, a colourful scrunchy is the perfect addition to it.

4. Stylish chunky headbands
Just like scrunchies, chunky headbands were one of the most iconic 90s fashion trends. Worn by actors in multiple TV shows and movies like 10 Things I Hate About You, thick headbands quickly became mainstream in the 90s.
While they were not as popular in the mid-2000s fashion industry, they have returned to reclaim their glory now. From Bella Hadid to Jessica Alba to Helen Mirren, many A-list celebrities are turning heads with vibrant chunky headbands.

Thick headbands can be easily paired with all kinds of outfits. From dazzling party gowns to simple summer dresses, you can find the right headband to go with each look. And the best thing is, you won't have to spend hours styling your hair. A simple hairstyle with a stylish headband will make you look like a stunner.
5. Crop tops
Crop tops were everywhere in the 90s! They were a runway hit amongst women who loved pairing them with high-waist baggy jeans and sneakers. Crop tops were perfect for the ultimate chic look.

Just like in the 90s, crop tops are still going strong and with summer around the corner, we expect that they will witness massive popularity this year. One of the greatest things about crop tops is how versatile they are! You can pair them with any outfit. From jeans to skirts, from cargo pants to shorts, crop tops go super well with almost everything.
However, when choosing a crop top, it is crucial to pay attention to your body shape. Women with curvy bodies can opt for loose-fitted options to balance out their curves perfectly. On the other hand, if you have a petite frame, you can go with a more fitted option. This will help you accentuate your curves and create an illusion of height.

6. Cargo pants
Women loved cargo pants back in the day! One of the biggest reasons for this is the large number of extra pockets available in them. From celebrities to regular individuals, most women were seen wearing stylish cargo pants.

Luckily, cargo pants are making a comeback today, and how! Now, they are not only available in traditional form, but newer styles of cargo pants are popping up too. You can wear jumpsuits, sweats, and even shorts in cargo styles. No, we aren't kidding! Pair them with a pair of chunky sneakers and a crop top for a chic appeal.

7. Oversized blazers
Oversized blazers were all rage in the 90s. They were the ultimate power piece in women's clothing lines. It had the power to turn any plain and boring outfit into a chic one in seconds. Whether it was a job interview, an important meeting, or even a dinner, women were seen donning a well-ironed oversized blazer for a confident and put-together vibe.

In 2023, the 90s fashion trend of oversized blazers is back with a bang! Models like Bella and Gigi Hadid have already given them their nod of approval.

These ultimate power pieces look fabulous paired with cargo pants, jeans, and even formal attires. You can pick an oversized leather blazer and wear it over a slip dress. It will give you a glamorous and sophisticated appeal. Alternatively, you can also style it with wide-leg jeans and a crop top. You can also wear it over your favourite mini-skirt for a fun and flirty look.

8. Dungarees
If there is one women's clothing item that screams 90s fashion, it is dungarees! These super comfy and chic overalls were women by everyone. From pop stars to top actresses to regular women, everyone had at least a few pairs of gorgeous dungarees.

Today, the 90s fashion trend of dungarees is back, but this time it is more stylish and versatile than ever! Gone are the days when dungarees were only available in denim. Modern-day dungarees can be found in a variety of materials like velvet and pleather. They give you a more sophisticated and dressier appeal. You can also layer them with a crop top, a puffy-sleeved blouse, or a simple white tee.

Wrapping up
So there you have it! That was all about the 90s fashion trends that are making a comeback today!

As you have already guessed, the 90s was the time when comfort was given equal preference as making a fashion statement. From loose and comfy jeans and cargo pants to relaxed oversized blazers, women used to wear comfortable outfits and accessories.

As these trends are making a huge comeback this year, it's time to price up your wardrobe and add some nostalgic, stylish, and comfortable pieces to it. So, go ahead, pick the 90s women's clothing and accessories you love the most, and say hello to your inner 90s fashionista!